Two weeks ago I wrote a post about all the great movies I had been watching lately, and last week was no exception, I just didn't have time to actually write everything out. Therefor this post is a little late, but I figure better late than never right? ;)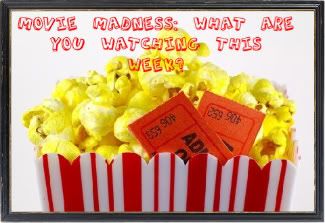 Since the last "Movie Madness" post I wrote was mainly about older movies (with the exception of "The Proposal") I figured this week I would write about some of the newer movies that I have been lucky enough to see, courtesy of the local "Video Fox" and "Redbox" in my neighborhood. So lets get started!
The first film I watched was supposedly "based on a true story" but I would use that term loosely. Now normally I wouldn't watch a movie like this cause they are just too freaky for my little self, but one of my besties made us watch it on Saturday during our "Besty Night". Thanks a lot "A," if I had trouble sleeping before this, well I'll just forget about sleeping ever again! The movie I'm talking about...?
The Fourth Kind.
The next film I watched was on a completely different scale, and I personally thought it was pretty funny. Thats right, I'm talking about
"Hot Tub Time Machine."
Now let me just say that I LOVE JOHN CUSACK!!! I think he is soo handsome (yes even with his squinty eyes!) so I wanted to see this one regardless.
The rest of the cast is pretty hilarious as well, and the story centers around 4 friends who go on vacation, only to be sent back in time by their hot tub. It sounds pretty stupid, and in a lot of ways it was, but it was still funny. :)
The next film I watched was
"When in Rome"
with Kristin Bell and one of my new favorite leading men Josh Duhamel.
Seriously this man is drop dead gorgeous!
I think I might have even drooled a little bit during this movie, lol!
It should be a crime for a man to be this handsome.
;)
Loved, Loved, Loved
this movie!!! It was so cute, but also hilarious! Kristin Bell does a great job in this film and is always finding herself in embarrassing situations, but that doesn't stop Josh Duhamel's character from falling in love with her.The actors were great, and I loved the physical comedy throughout the movie. If you haven't seen it yet, this is a must see! Get your butt to the video store, or better yet just buy it! I mean look at him..come on! ;)
Well that's all for this week, but be sure to check out my post next week, as I'm sure to have seen some more great films by then!
Have you watched anything interesting lately?? Do you have any suggestions of movies you think I might like?? If so leave me a comment, I would love to know what you're watching this week and I'm always looking for new and interesting films to add to my collection!
:) Happy Tuesday everyone!