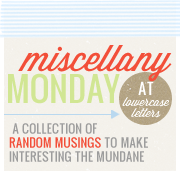 This is my first week participating in "Miscellany Monday" and I have to say I'm pretty stoked about it. I've been wanting to join in the fun for awhile now but have been too busy/pooped/traumatized to find the time. So here goes...if you want to get in on the fun head over to
"lowercase letters"
and link up!
1). Have I mentioned how much I dislike daylight savings time? I know we get an extra hour of light when we "spring forward," but it always takes me about two weeks to adjust to the time change, not to mention I have to remember to change all of my clocks around the house and in my car. I still haven't gotten to them all yet. However, I'm elated by the fact that from now on it won't be dark by the time I get off work...Woo-hoo! Now I can enjoy at least an hour of my day with the sun still shining once I leave my life, (I mean place of work) and come home. ;)
2). I got good news today! After nothing but bad news and stress for the last week I really, really needed some good news. I can't really say what yet but I am thankful to the Lord for working it out. I've felt so lost and alone the past week and I was starting to wonder if he could still hear my prayers. I know I never should have doubted that fact but when you are weak and broken down the enemy loves to whisper things in your ear. And me being like most people, I sometimes fall into that trap and find myself being mad at the lord. I'm trying my best to rise above it and choose not to believe satan's lies.
3).I am also thankful that my work was able to give me the time off I needed to move into our new apartment. I can't wait, I am literally counting the days until we move! :) Our new apartment is so cute and cozy and I can't wait to cook in our amazing new kitchen! We're going to have granite countertops and real maple cabinets with tons of storage space...I definitely plan on perfecting my cooking skills and trying some new recipes while my hubby is deployed. I'm gonna have LOTS of time to practice! lol!
4). Spring is right around the corner and with that being said I am loving that the weather is finally starting to warm up a bit. Yesterday was an absolutely gorgeous day outside and I was actually able to wear sandals and a tank top! Here's a photo I snapped of one of the crepe myrtle trees starting to bloom. These trees are so beautiful when they are in full bloom and I love when the blossoms turn pink and purple.
5). I can't wait to pull out all my spring and summer clothes and start switching out my wardrobe. I am so sick of all my winter clothes already and I need to get my tan on this summer! I can't wait to spend long days at the beach, go shopping and bike riding along the boardwalk and enjoy the salt water pool at our new apartment! :) Its gonna be a great summer, even though my love won't be here to share it with me. :(
6). Sometimes life is bittersweet. I was just getting used to having my husband around occassionally and now we have to say good bye a lot sooner than we thought. I'll admit I'm a little heartbroken (and a lot scared) but I have some great friends here in Virginia Beach and of course my wonderful family and besties back home in Cali to support me through this next chapter in our lives. I know the next year is going to be extremely challenging but I am hoping that it will help me learn and grow into a stronger and more admirable person. I hope to deepen my relationship with the lord and to strengthen the love my husband and I share for one another. Every day presents new challenges and new possibilities and we all have the choice to make the most of the gifts were given. I want to look back on these experiences and be proud of myself for overcoming such obstacles with strength, grace and dignity.
Well thats all for Miscellany Monday and I hope to find some great new blogs through this link up and maybe be inspired! :) I hope everyone is having a great start to their week!