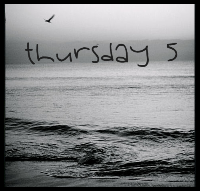 Wanna join in the fun? List Five things that have made you:
happy go lucky

,
delighted
,
ecstatic
,
giggly
, and
joyful
. Post your own
Thursday 5 and link up over at Mrs. Gambizzles page! :) Heres my five for this week...
I am absolutely

happy go lucky

over the fact that my besty is on her way to visit me for the next five days!! :)
I am delighted that I was able to spend the day with my lovely bloggy friends Mrs. Gambizzle and Samantha! We had an awesome day at the beach and I loved hanging out with them both!!
I am ecstatic that my hubby will be home very, very soon! The days are flying by and I love it...♥
I am positively giggly and gaga over my new doggy friend Tulip. She went home today and I miss her already! I am trying to convince my hubby to let me keep her, and I think I am wearing him down, lol! She is literally the perfect doggy for us! :)

And last but not least I am absolutely joyful at the thought of my husband coming home and finally being able to start our lives together! This is a whole new beginning for us!♥
Well folks, thats my Thursday Five...whats yours???