Its Thursday again, so that means its time for Thursday Five! :) Here's how it works...just grab this button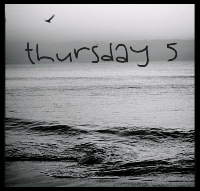 and write about what five things have made you:
Excited
,
Joyful
,
Thankful
,
Happy
and
Pumped
! Then head over to
Flip Flops & Combat Boots
and link up! Heres my Thursday Five:
1)This week I am so Excited to finally be on vacation for a few days! I have been catching up on all the things I have been too busy to do because of work, so having some extra time on my hands has been very nice! :)
2) I am positively Joyful that it has already snowed three times in the last week or so! Being from California, I hardly ever see snow, so its a very nice change to actually have a "White Christmas" ♥ Heres a glimpse of our own little Winter Wonderland...
3)
This week I am
Thankful
for my family and friends who are always here to listen and cheer me up when things aren't going so great. I have a very loving family and close friends that still try to be a big part of my life, even though we are on opposite sides of the country. I love you all!
♥
4) I am very Happy that yesterday my hubby and I actually had time to spend a nice day together and enjoy each other's company. Things have been hard and stressful lately and it was nice to just have a day to not think about the upcoming deployment, but to enjoy the present.
5) I am soo Pumped because I got awesome gifts from my Secret Santa at work and I loved everything! I got a snazzy mug for my coffee, some Godiva Chocolates and a Coach keychain! Just a few minutes ago I also received our Christmas present from my In laws...we got a digital photo frame and its awesome!! I have been wanting one forever now and this was the perfect gift for us! :) Thank you Taylor Family!
So whats your
Thursday
Five?